By
David Ball
Friday Night Sessions at California Plaza has been postponed indefinitely.
Free concerts at California Plaza in Downtown Los Angeles on the 2nd Friday of every month. The program includes performances by local emerging indie bands.  The concert series is a collaborative effort by the Downtown Music Project, lafreebee, Isgoodmusic, SideCho Records, Dramaturgy Promotions, Casa Downtown and the artists themselves.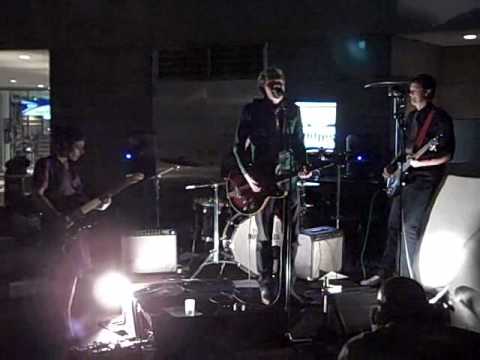 Lafreebee describes the event as an opportunity to see SXSW (South by Southwest) performers with out having to fly to Austin. Catch a show by a future Coachella performer before they make it big.  Recently, local bands like the Airborne Toxic Event and Silversun Pickups went from playing small local venues to sold-out arenas worldwide. Indie music is to Los Angeles today what grunge music was to Seattle in the 90′s.  There's an abundance of local talent and its thrilling to see these bands evolve and succeed.  Every month, Friday Night Sessions will introduce a new line-up of bands you won't want to miss.
Flavorpill Describes the event: "If there is such a thing as a formula to LA's culture of the moment, it might look like this: warm nights + outdoor venues + free tickets + local buzz bands. Friday Night Sessions takes over Downtown's Cal Plaza once a month and brings you what they like to call "pre-Coachella" next-big-thing lineups, and they've got a pretty good track record to back that up."
Los Angeles Downtown News says: "DOWNTOWN LOS ANGELES – If you want to catch a few bands before they get big, check out the free concerts at California Plaza in Downtown Los Angeles"
Other notable mentions include: LA Weekly, LA Times, About.com, nbc.com, wiredla.com, OC Register, YELP, Metro, Press Telegram and many more.
Playing June 11th:
The New Limb(www.myspace.com/thenewlimb)
Ralpheene (www.myspace.com/ralpheene)
The Hunting Accident (www.myspace.com/huntingaccident)
Halloween Swim Team(www.myspace.com/halloweenswimteam)
Scroll down for videos
Concerts are scheduled through the winter and spring months on the 2nd Friday of the month.  Performances begin at 5:00PM on the Grand Avenue courtyard, adjacent to Casa. The concert moves in-doors to Casa if the weather is uncooperative.  Seating is available on a first-come, first-serve basis.
Date:  Friday June 11, 2010 (& every 2nd & Last Friday of the month)
Time:  5:30PM (first two sets) & 10:00PM (last two sets) "happy hour" in-between sets.
Price: FREE
Click Here to RSVP with CASA or RSVP with OPEN TABLE (Mention: "Friday Night Sessions" & enjoy a complimentary drink while supplies last)
California Plaza / Casa Cocina & Cantina

350 S Grand Ave
Los Angeles, CA 90013
Valet Parking at CASA is $8 (Cheaper than self-park. Some street parking available)
___________________________________________________________________
Venue:
Bands:
The New Limb

The New Limb's EPK from Ashley Eliot on Vimeo.
Ralpheene

The Hunting Accident

Halloween Swim Team

Past performances have included:
Robotanists
The French Semester
Arrica Rose
Seasons
Darlings of the Day
The Monthlies
The Terrapin
Jason Heath and the Greedy Souls
BoxViolet
Garland Band
The Ross Sea Party
Facts on File
Divisible
Under the Asbury
Bright Million
Franklin Music School
Wonderground
Lady Katherine
American Primitive
Downtown/Union